Welcome to Damp Busters (Australia) Pty Ltd the Australian owned home of DRYZONE and the exciting new DRYROD the WORLD'S LEADING RISING SALT DAMP TREATMENTS.
DRYZONE was developed in the UK in 2000 by Safeguard, and now outsells traditional chemical injection damp-proofing treatments and is the best selling rising salt damp treatment in the world now being sold in 15 countries worldwide including Australia. Damp Busters introduced DRYZONE into the Australian Market in 2003 and since that time we have treated 1,000's of buildings, including heritage listed, with100% success rate.
Now Safeguard have done it again and after over 3 years of intensive research have now released DRYROD damp proofing rods their most powerful rising damp treatment yet. DRYROD damp-proofing rods are patented 12mm diameter grooved rods that carry a powerful water repellent. They are simply inserted into 12mm holes in the mortar lines of a building. The British Board of Agrément and Safeguards own tests show that DRYROD outperforms all competing products on the market.
We are now able to offer you a choice of the World's two leading rising salt damp eradication systems: DRYZONE, which is more suitable for professional application or DRYROD which is suitable for both professional application and DIY.
House Purchasers Scared Off by Damp
A recent YouGov poll, carried out on behalf of Safeguard Europe, has found that 38 percent of potential house purchasers would completely withdraw their offer on a house if it was found to have damp issues.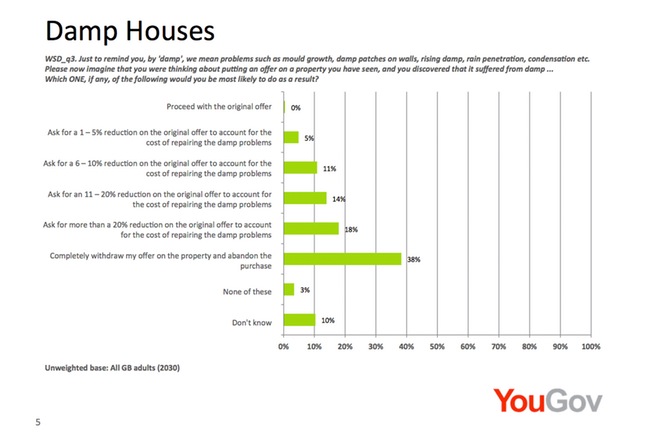 The poll results showed that even those who would continue with the purchase would only do so if the price that was substantially reduced below the original offer.
48 percent of respondents said that they would expect a price reduction with 18 percent expecting a price reduction of 20 percent or more – equating to more than £42,000, based on the June 2016 UK average house price of 213,927.
According to Hudson Lambert, Managing Director of Safeguard Europe the key message that comes from the survey is "Fix damp before selling":
"We already knew that damp was a big turn off for potential house purchasers. However we were still surprised at the degree to which it affected purchasing decisions.
The fact that so many people appear to be willing to walk away from a house purchase or expect a price reduction of tens of thousands of Pounds would indicate that people's perception of the cost and difficulty of dealing with damp problems is overblown.
For this reason, it would seem that most sellers would be best advised to treat any dampness issues before placing their properties on the market as this will allow them to attract the most buyers and achieve the best price."
If you are having problems with damp issues in your property, it is usually easier and less expensive than you might think to solve them. Contact Us to find out more.